For the season 2019, we are offering two driver seats in the GT4 European Series on one of our BMW M4 GT4.
We are looking for drivers with a budget who want to fight for the championship in a successful team.
We offer vehicles and team support at an international top level. Over the past two years, RN Vision STS has established itself as a serious championship contender in the GT4 European Series:
Debut season 2017: Overall 2nd place in the team classification, Overall 2nd place in the Pro/Am class, Best Porsche Team
Season 2018: Start with three BMW M4 GT4 – a total of 4 victories, 10 podiums and 2 poles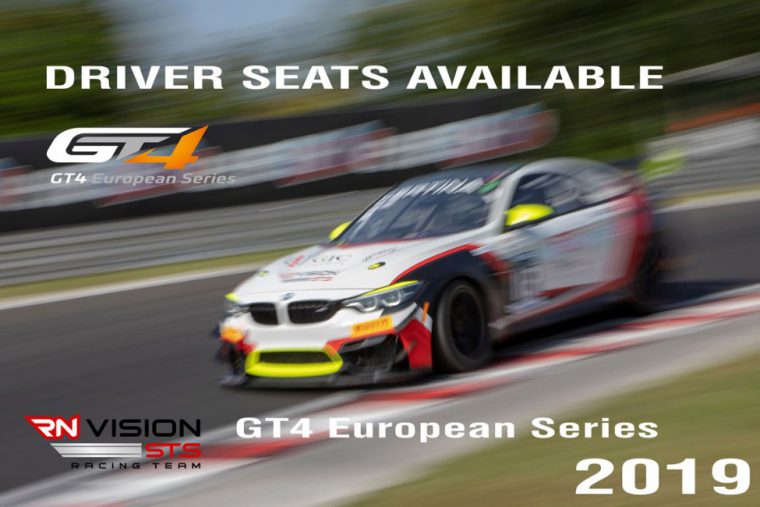 All vehicles are state-of-the-art and perfectly maintained. Our The team provides technical and organisational support during the season. Additionaly, our offer for drivers includes:
Professional data analysis via vehicle data logger (AIM) and our analysis tool for data and video recording Race Navigator PRO.
Livestreaming from the cockpit (tbc series promoter)
Press and media work on the race weekends and tests (incl. social media)
Support at events of guests, VIP and sponsors.
Testing Possibilities
Currently we still offer test possibilities on 14.03.2019 in Barcelona-Catalunya.
Booking and Contact
Are you interested in becoming part of our young, dedicated and professional team? Contact us! Your contact person:
Veit-Valentin Vincentz
Tel.: + 49 175 52 31 951
Email: vvv@rn-vision-sts.de