Wintertime is racing time! RN Vision STS offers you a wide range of exclusive trackdays in Southern Europe from November to March. Come with us and drive on Spain's and Portugal's most beautiful and exciting racetracks, including Ascari, Portimao, Parcmotor Castellolí near Barcelona and the Circuit Ricardo Tormo in Valencia.
» View calendar with all dates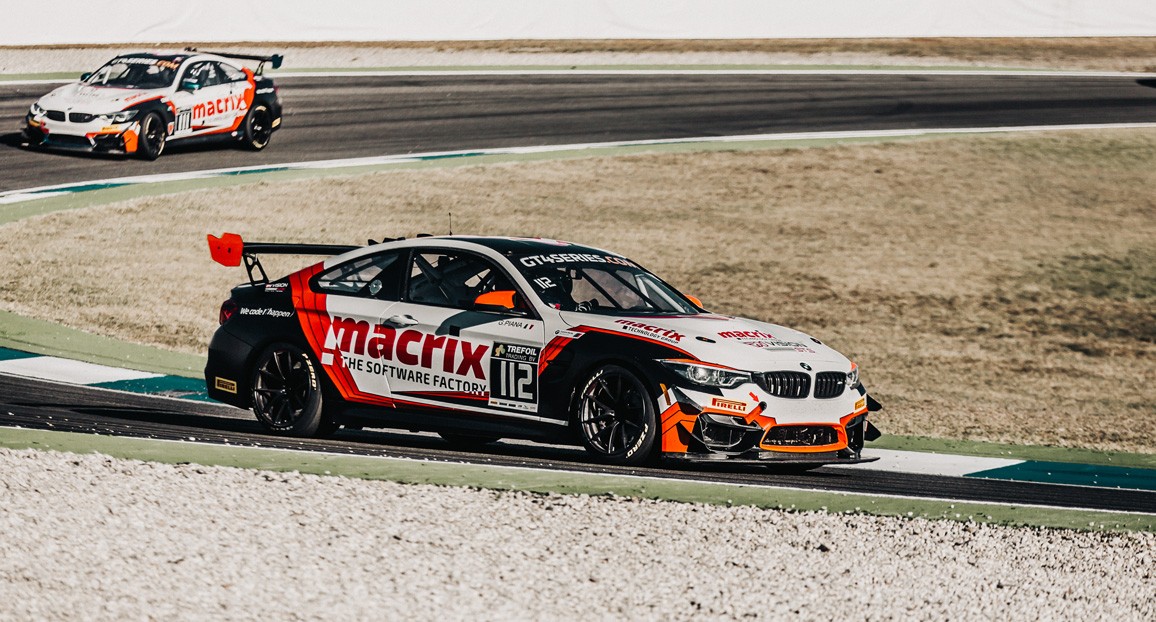 Race car rental and transport services for your own car
Select one of our perfectly prepared race cars and enjoy the track. Two BMW M4 GT4, a Cayman GT4 CS and a Nissan 370Z are at your disposal. Of course, you can participate in the trackdays with your own car. We can assist you with transport and storage.
All prices are net prices excl. VAT
Nissan 370Z Nismo – from 1890€/day
Porsche Cayman GT4 CS – from 3990€/day
BMW M4 GT4 – from 4390€/day
Technical support at the racetrack – from 95€/day
Transport of your car Mönchengladbach – Ascari – Mönchengladbach – from 2390€
Professional coaching with data analysis
Improve your driving technique and performance on the track with our experienced RN instructors. Individual coaching in the cockpit includes professional data analysis with our Race Navigator systems.
All prices are net prices excl. VAT
Driver-Coaching incl. data analysis with Race Navigator – from 295€/day
Trackday calendar with all dates
Dates can be combined – contact us if you are interested!
For selected dates, an additional night training option (499 €) is available. More details in request.
All prices are net prices excl. VAT. Additional services can be added on request (for example pit box, additional driver or vehicle) and will be charged separately.
*Testing day exclusively for race cars and street legal cars with roll cage and more than 350 PS.
November:
17.11.2018 Ascari Race Resort Sunset & Night Training (½ day incl. Evening and Night Practice: 645€)
18.11.2018 Ascari Race Resort (1290€)
December:
13.12.2018 Portimao* (1590€)
14.12.2018 Portimao* (1590€)
15.12.2018 Portimao* (1590€)
16.12.2018 Portimao* (1590€)
21.12.2018 Ascari Race Resort Sunset & Night Training (1290€, additional night training: 499€)
22.12.2018 Ascari Race Resort (1290€)
January:
26.01.2019 Circuito Espana (1290€)
27.01.2019 Circuito Espana (1290€)
28.01.2019 Circuito Espana (1290€)
January/February:
31.01.2019 Portimao (1290€)
01.02.2019 Portimao (1290€)
02.02.2019 Portimao (1290€)
February:
07.02.2019 Portimao* (Price on request)
08.02.2019 Portimao* (Price on request)
09.02.2019 Portimao* (1590€)
10.02.2019 Portimao* (1590€)
11.02.2019 Portimao* (1590€)
13.02.2019 Jerez* (Price on request)
14.02.2019 Jerez* (Price on request)
16.02.2019 Portimao* (1590€)
17.02.2019 Portimao* (1590€)
March:
02.03.2019 Ascari Race Resort (1290€)
03.03.2019 Ascari Race Resort (1290€)
06.03.2019 Valencia (1290€)
07.03.2019 Valencia (1290€)
10.03.2019 Barcelona (1290€)
11.03.2019 Barcelona (1290€)
Information and booking
Contact us to reserve your spot for the most exclusive winter trackdays in Europe. Your contact person is:
Veit-Valentin Vincentz
Phone: + 49 175 52 31 951
E-mail: vvv@rn-vision-sts.de